Student Jobs
Below, you can find a list of currently available student jobs.
Tutors
We are always looking for tutors for our lectures and practical courses. Regularly offered courses:
Übung zu Einführung in die Rechnerarchitektur (WiSe, Deutsch)
Praktikum Rechnerarchitektur (WiSe und SoSe, Deutsch)
Praktikum Aspekte der systemnahen Programmierung bei der Spieleentwicklung (WiSe, Deutsch)
Parallel Programming (SoSe, English)
Applications: Tutortool - if a registration is not possible there, please contact the course organizer directly, we may have additional funding options.
Tutors Wanted for IN0005 Praktikum Grundlagen Rechnerarchitektur and IN0035 Praktikum Aspekte der systemnahen Programmierung
This practical course is taught in German. German skills are a prerequisite for a tutor position.
Dieses Praktikum wird in Deutsch unterrichtet. Gute Deutschkenntnisse sind Voraussetzung für eine Tutorenstelle.
Wir suchen in jedem Semester Tutoren für die Durchführung der Praktika "Grundlagen Rechnerarchitektur" (Sommer+Winter) und "Aspekte der systemnahen Programmierung" (Winter).
Unsere Stellen haben folgende Vorteile:
Flexible Arbeitsstunden
Tutorenhonorar nach TUM-Tarif (Standardmäßig 10 Wochenstunden, verhandelbar)
Mitverwendung des ERA-Tutorenraums
Arbeit an hardwarenahen Themen
Freundliche Kollegen
Das Aufgabenspektrum eines Tutors umfasst folgendes:
Tutorübungen abhalten
Mentoring für Projektgruppen
Vorträge hören und evaluieren
Projektabgaben korrigieren
Wir wünschen uns folgendes von dir:
Verlässlichkeit
Gute Deutschkenntnisse für Unterricht und Korrektur
Fächer "Einführung in die Rechnerarchitektur" sowie das Praktikum erfolgreich abgeschlossen
Interesse am Thema
Wir freuen uns auf deine Bewerbung.
Kontakt: Vincent Bode
Bewerbungen sind über das Tutortool oder per E-Mail an vincent.bode@tum.de möglich.
Tutors Wanted for Parallel Programming IN2147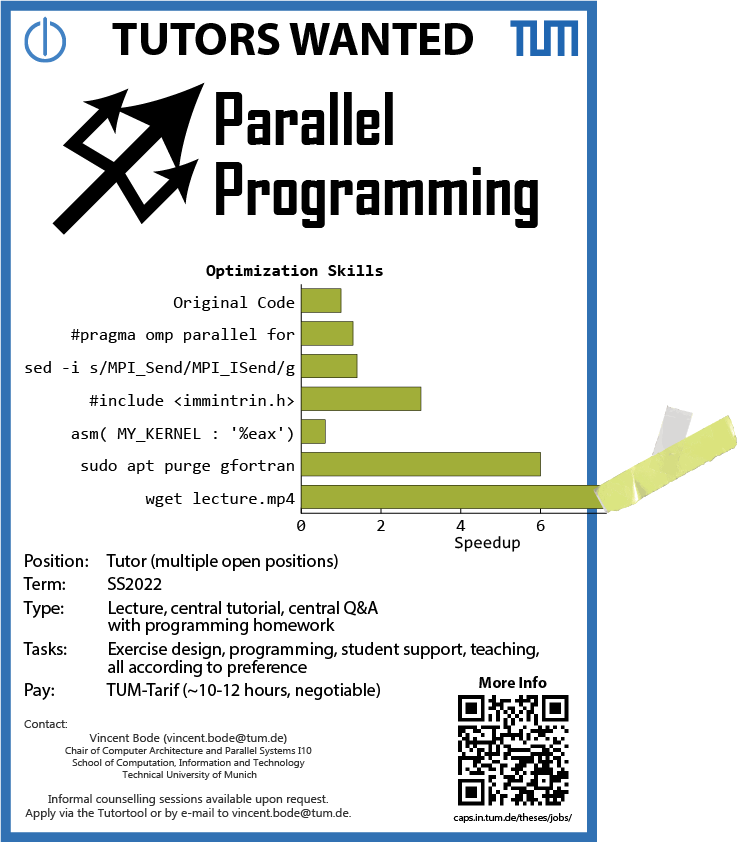 We are searching for multiple tutors for the subject Parallel Programming in the every summer semester.
You gain the following:
Flexible working hours
Salary according to the "TUM-Tarif" (number of hours negotiable)
Use of the tutor room subject to availability
Interesting topics
Friendly colleagues
Your tasks include:
Help organize the (central/distributed) tutorial
Participate in weekly Q&A sessions
Supervise and grade exams
Administrate server for programming exercises
We wish for:
Reliability
Completion of the lecture "Parallel Programming" or similar lectures with a good grade
Contact: Vincent Bode
Apply via the Tutortool or by e-mail to vincent.bode@tum.de.
HiWi Position: DDS and Realtime Systems

As of February 2022, we have an open HiWi position regarding benchmarking the IIoT System DDS (Data Distribution Service) in relation to realtime systems. Research activities can include determining how to use DDS-Systems with user-space communication solutions and benchmarking the bandwidth latency effects of user space communication versus traditional networks like TCP/IP.
For more information, please contact Vincent Bode (vincent.bode@tum.de).
HiWi - Machine Learning Inference on FPGAs
We have an open HiWi position for the MLAB project (Machine Learning Application Benchmark): The core part of this project includes the development of a benchmarking suite for machine learning tasks on FPGAs-enabled SoCs targeting space applications. We are looking for students to develop a prototype for an automatic benchmarking system. This system automatically spawns benchmarking instances and records the performance metrics, e.g., frame rates, as well as power consumption.
If you are interested, send an email to Amir Raoofy (amir.raoofy@tum.de).