Gertie - the robotic lamp with a personality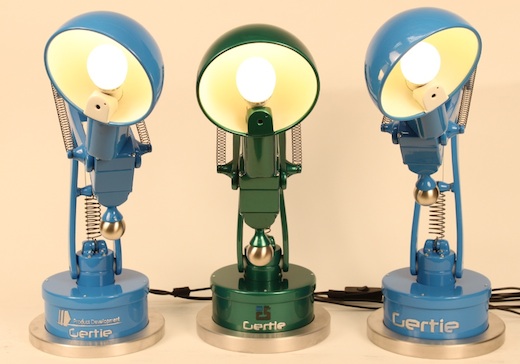 By imitating human body language Gertie is capable of expressing four of the basic Ekman emotions: joy, sadness, surprise and fear. We conducted an online video study to investigate how well the emotions expressed by Gertie are recognized by human audiences.
In total 84 participants were shown one video for each of the four emotions and they were asked to identify, with a multiple choice test, which of seven emotions Gertie expressed.
While joy and sadness were recognized very reliably with 81% and 88% of all people giving the correct answer, fear and surprise were more commonly misinterpreted as surprise (45%) and disgust (29%).
However, all emotions were recognized above the chance level percentage of 14%.
More information on Gertie's website.
Features
Five Degrees of Freedom
USB Webcam and Microphone integrated in the Lamp Shade
Spring Mechanisms for Gravity Compensation of Joints
Programming by Demonstration
Compatible with the Robot Operating System (ROS)
ROS Interface for the Skype API
Sample Software for Object Tracking